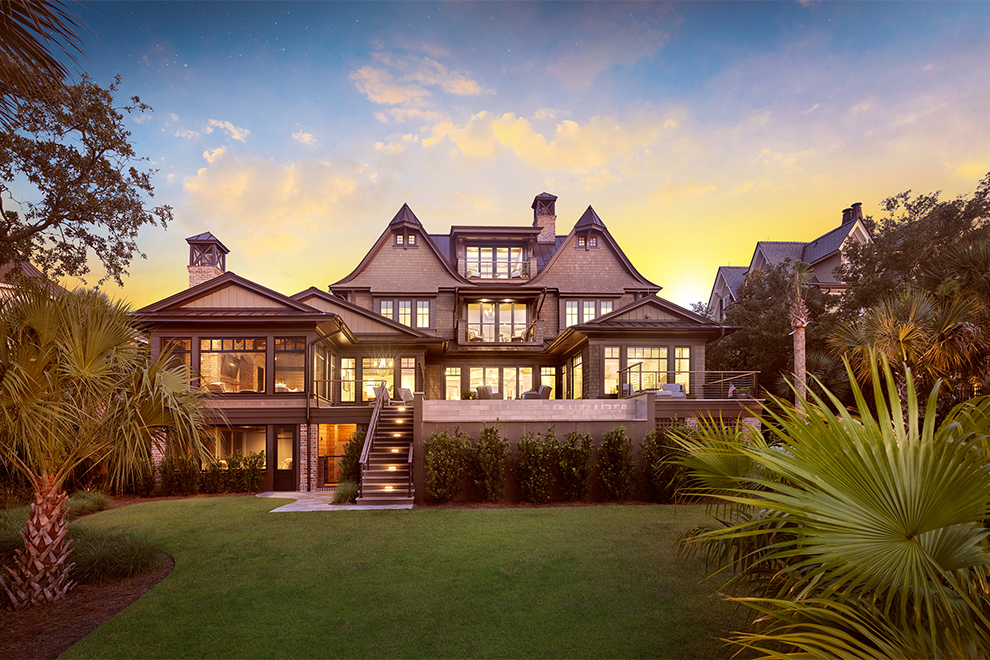 Tudor Tradition Meets Kiawah Charm
Exuding grandness yet warmth, this magnificent home captures chief architect Marc Camens' passion for meaningful flow and intentional detailing. It was built in the tradition of the Tudor style in mind — steeply pitched roofs, included — mixed with Kiawah Island charm.
Like all of Marc's designs, this residence was planned with the homeowners' lifestyle at the forefront. They are a blended family who wanted a place that was reminiscent of their Pittsburgh roots — cue the steel detailing in the exterior — where they lived in a Tudor house. They also wanted space for their four boys to have their own bedrooms and dens, separate from the main living areas and primary bedroom.
Maximizing indoor-outdoor flow
Not only is this house well-zoned with private and public spaces that are suited to the family's lifestyle, there is a seamless, organic flow between the interior and exterior. We accomplished this by maximizing the natural light inside and focusing on beautiful detailing throughout. In addition, the rustic elegance of wood beams and exposed brick inside contribute old-world charm and connect to the same features in the outdoor living room, further unifying the flow between the spaces.

Prioritizing views
Another big part of the connection between the interior and the exterior in this home is through the stunning views. For chief architect Marc Camens, building from the inside out always includes a thorough exploration of a site's environment to ensure each room in the finished home properly embraces every angle. With this property, there are direct lines of sight to the outdoor living spaces, pool, and river beyond as well as the surrounding nature. A private office on the third floor has one of the most encompassing views.
Celebrating signature ceilings
Ceilings are one of the most important design features in a home for Marc Camens. This home is no exception. Here we have a prime example of how he emphasizes these planes to magnificent effect, transforming them from a blank surface to a defining design element. The lower ceiling in the kitchen creates a rustic, more intimate feel with the wood beams. Exposed trusses also play a role in the office and outdoor living room, beautifully enhancing and warming these large spaces.
Are you ready to build the custom home of your dreams? Contact us today and let's get the conversation started.