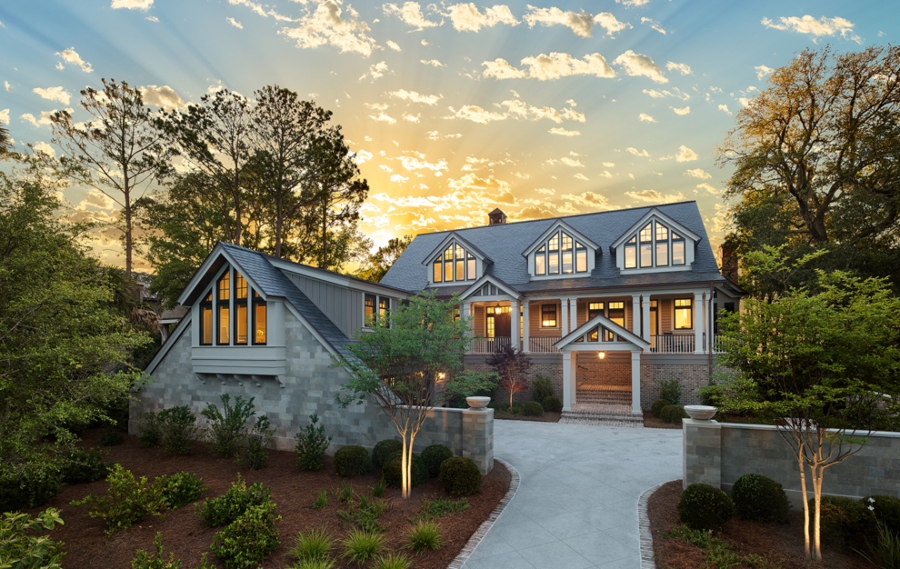 Building A Home With Heart
This beautiful Kiawah Island home features a variety of unique elements, but its most significant characteristic is its heart. Inspired by the owners' family-centered lifestyle, Marc Camens designed a home that fosters a sense of safety, rest, and love from the moment you drive up to it.
Energy Flow Is Essential
Unlike many residential architecture firms, Camens Architectural Group focuses on energy flow as one of the most critical aspects of building a home. It's about more than just how one room connects with another, though. Marc considers the energy flow of the entire process, the contractors he works with, and the owners themselves. It seems appropriate, then, that the owners were drawn to Marc's energy before they encountered the architectural group. While he was out on another homesite, Marc's enthusiasm caught the owners' attention, and they approached him to chat. The owners' energy perfectly aligned with Marc's, and their desire to avoid a "typical" Kiawah house meant that it was a fortuitous match for everyone involved.
The flow of energy in the home is truly distinctive. From the outside, you can't help but notice the stone wall that wraps around the front courtyard. Immediately, a sense of intimacy is palpable. A brick base and cedar shingles gives the home a Southern charm, and peaked windows hint at the light-flooded interiors inside.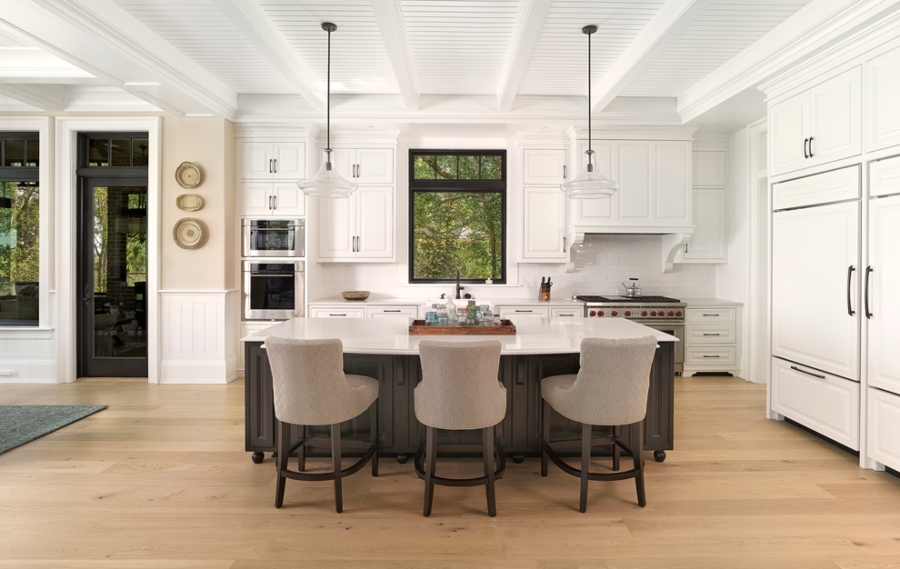 Personalized Features
Custom millwork, coffered ceilings, and Old World-inspired details fill the home with a sense of timelessness. In the great room, Marc's first-ever pyramid detailed ceiling crowns the space. On the top floor, there sits a single room set aside for family meetings with the kids. There's also a bunk room with a nautical feel for guests and a mother-in-law suite over the garage.
Like all homes built by Camens Architectural Group, this one enjoys a close relationship with nature. Beautiful green trees peek through the central window of the kitchen in a way that reminds you of a piece of art in the center of a gallery wall. A screened deck with a built-in fireplace allows the family to commune with nature even on rainy days.
Building More Than Just A Home
The home stands out in the portfolio for the overall experience shared by everyone involved. Ideally, when a homeowner searches for residential architecture firms, they take personality alignment and signature style into account. In this project, though, the complementary personalities were nearly perfect. As Marc recalls, the entire building process was filled with love, gratitude, and excitement shared by the owners, Marc, the builders Steve Bennett and Jedd McLuen of Bennett-McLuen Homes, and each of the subcontractors who added their craftsmanship to the finished home. 
Are you tired of searching for residential architecture firms? We're here to help. Contact us today to get started building your dream home!