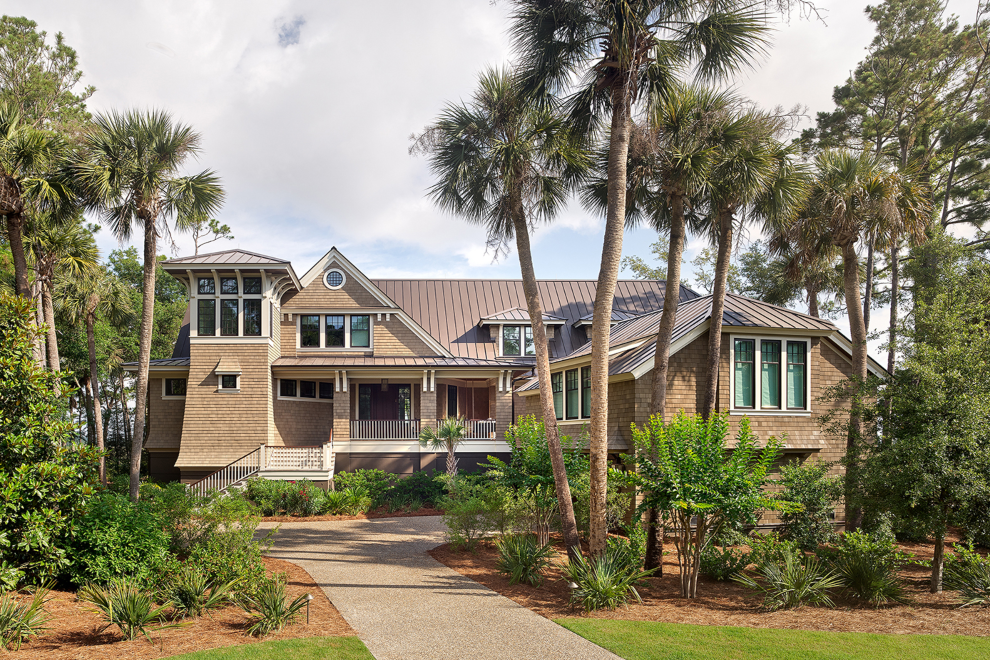 Sophisticated Kiawah Island Home Design
"Simple elegance" is a term that we hear a lot here at Camens Architectural Group and the truth is simple elegance isn't always easy. In fact, only the best residential architects can achieve the look that's both refined and relaxing. A recent build on Kiawah Island is a great example of the sophistication and warmth that Marc Camens's work has become known for.
It Starts Outside
When approaching this home, which peeks out from behind palm trees and coastal foliage, you immediately sense something different. From the tower crowned in windows and a pyramidal roof on the left side of the entry, to the angled wall that leads you to the front door, everything about this shingle-sided treasure makes you stop and admire it. Just beyond the elevated entry door, another angled wall reveals a private front sitting area where a daybed swing promises a warm, cozy place to rest.
Layering Details
It's no secret that Marc believes the ceiling is the most important plane in a room. This home features several different ceiling types that help to create division between each space. From the dining room with its modern coffered ceiling to the elegant, beamed ceiling in the kitchen, each room is a treat for the eye. Soft hues in the hardwood and tile floors, and the white walls allow for a layering of details and features that would otherwise be overwhelming. In some spaces, the custom cabinetry takes on a sleeker, modern vibe, such as in the living room, yet the overall effect remains true to the home's coastal vibe. The best residential architects know how to seamlessly combine elements like this to ensure a cohesive design that also doesn't look like everyone else's home.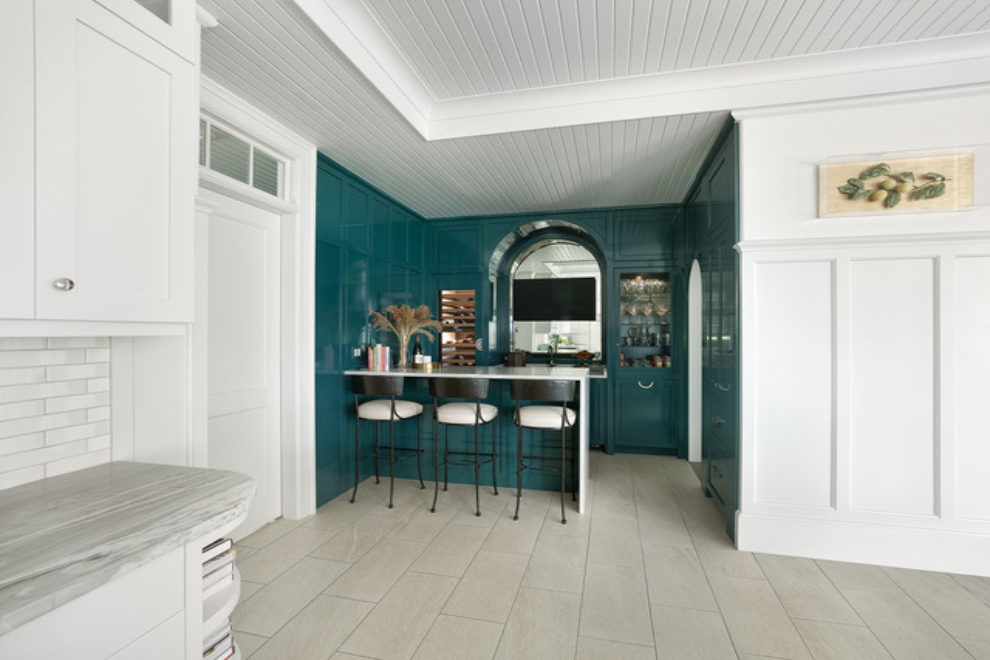 Made For Entertaining
Like many of us, new homeowners are looking forward to entertaining at home again. This residence features spaces inside and out that are perfect for hosting family and friends. In the kitchen, a long island accommodates nine bar chairs with room to spare. Two faucets at the sink and a massive range are perfect for the home chef. One of the gems of this home is the dark, glossy teal wet bar that joins the dining room through an arched doorway and stands open to the kitchen. You immediately feel as if you've been transported to a cozy little speakeasy – a secret just waiting to be revealed in the otherwise mostly white-dressed home. 
A screened porch with a stunning cathedral ceiling and Marc's signature dormer windows offers multiple entertaining opportunities when the homeowner hosts guests. And when it's just the family at home, a roaring fire with the beautiful Carolina marshland steps away is the perfect combination for sophisticated, luxurious living.
Are you ready to work with the best residential architects in the Lowcountry? Contact us today to get started on your dream home.