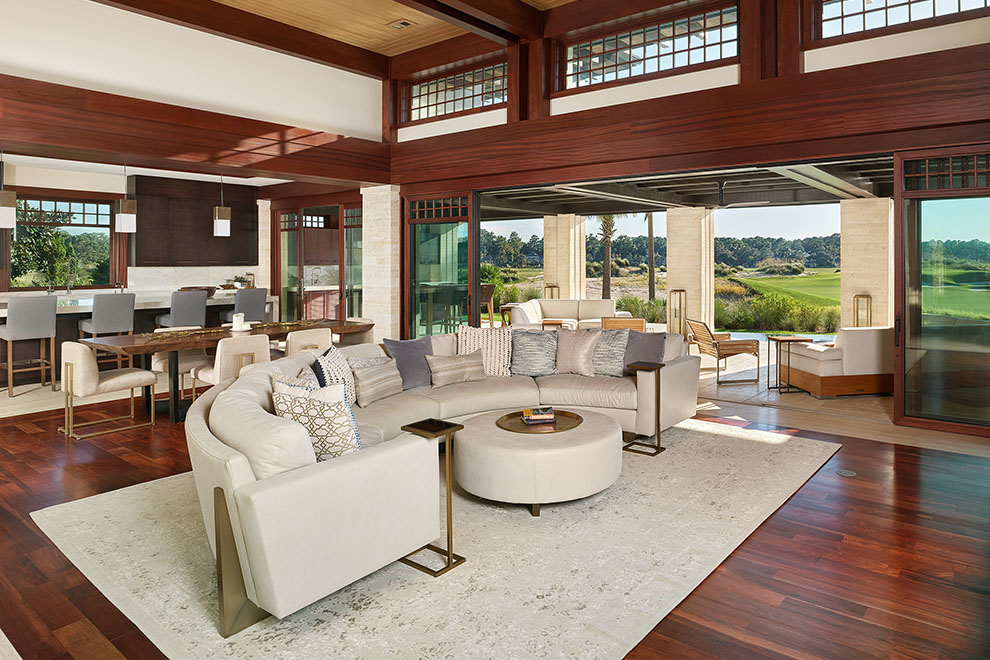 Light Defines and Texture Refines
One of the defining principles here at Camens Architectural Group is: light defines, and texture refines. We take cues from a space to understand how it's used and how we should behave in it. A formal space of a government building or cathedral elicits a much different response than a home. Two aspects of architectural design that tell us a vast amount of information about the room are light and texture. Light signals how a space works and feels, while texture helps reinforce the room's function and energy, adding an organic element that we as humans crave.
Light and Texture Are Essential
One of Marc's mentors, the late Norman Jaffe, once said, "Sheetrock is a dead material." Marc has carried that statement with him for years. In every home he designs, texture appears throughout in interesting ways.
In this Hilton Head residence, Marc found inspiration in Arizona's desert homes – a truly interesting juxtaposition of styles. The best residential architects can combine seemingly different styles in this way to create a unique home. The influence of Frank Lloyd Wright's organic designs are apparent in the use of wood elements and in the windows, while the harmony of Asian architecture suggests peacefulness and relaxation.

Set The Mood
In the Great Room, natural light filters in through the retractable glass wall, as well as the transoms above. The angle of sunlight into this space dictates the mood: refined, sophisticated, and tranquil. Lighter tones on the walls and the darker shades of wood help to create balance in the spaces.
The home itself sits on a plinth, high enough above the floodplain to ensure it remains safe when water levels rise. The plinth becomes part of the home at the entry and travels around the exterior. It also transforms into planters and the base of the pool. The plinth, planters, and pool base are clad in a light-toned, horizontally-cut stone from the Dominican Republic. This soft shade gently reflects light off its surfaces, and since it can be seen from inside the home, it continues to reinforce the design's peaceful mood.
Texture Adds Refinement
We crave nature and texture, and as the Jaffe quote alludes to, texture gives a space a life of its own. Rich mahogany inlaid in the floor, the visual softness of creamy white walls mingling with dark wood finishes, and even the differing sizes of the panes of glass in the windows tell you that this is a place to sit, rest, and be at peace. The best residential architects also make it a point to work directly with interior designers when creating a home to carry those textures into the furnishings and accessories.
If you're ready to experience what it's like to work with one of the best residential architects in the US, contact us today.