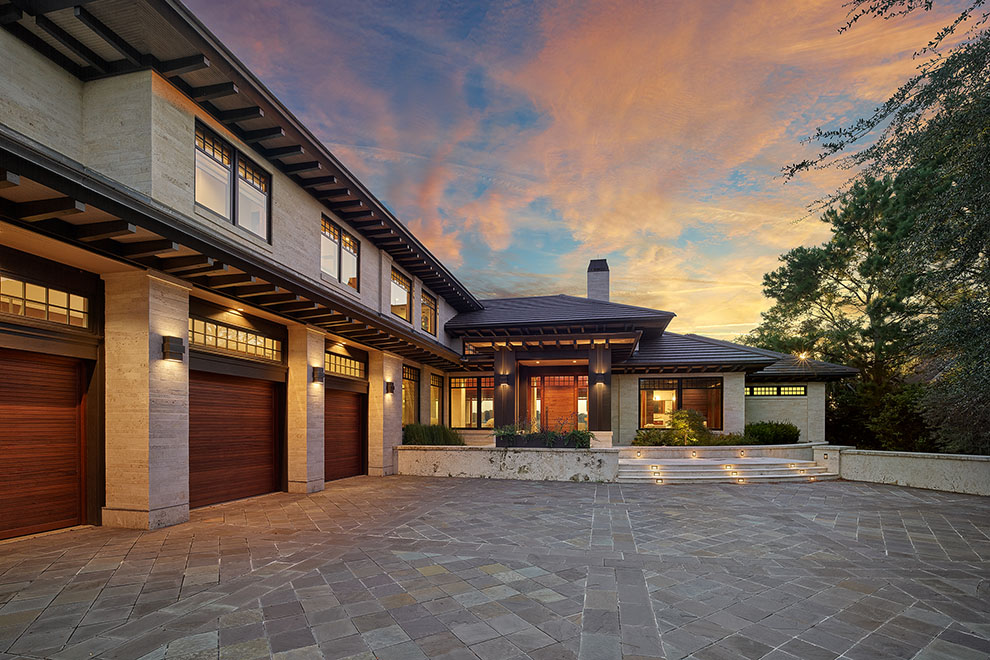 Building A Home That's As Unique As You Are
Camens Architectural Group is noted for its regionally-inspired architecture—classic Kiawah Island homes, Charleston charm, and more—but that doesn't mean that contemporary architecture is out of the question. For a couple who wanted to bring their love of Arizona's organic architecture to Kiawah, we used organic materials, the work of Frank Lloyd Wright, and the harmony of an Asian aesthetic as inspiration.
The unique combination of these three inspirational starting points fostered the creative flow of Marc's design process. Among the notable features of this home is the plinth that it's built on. The plinth serves two purposes: the very practical purpose of ensuring the home is above the flood plain, as well as giving the home a visual foundation that flows around corners. At various points, it serves as part of the home's entry, then a linear planter, and then later as the base of the pool around back.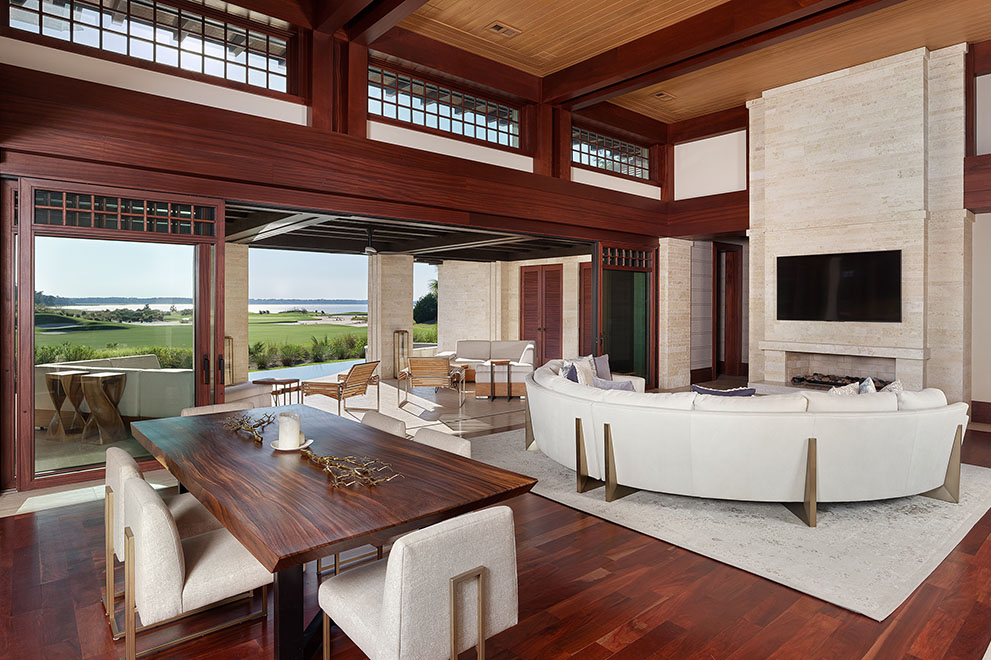 Adding Organic Elements To
Contemporary Architecture
With the owners' input, Marc selected stone from the Dominican Republic for use on the exterior and inside. The stone was laid horizontally to create a layered look outside. Inside, the stone also appears in the oversized columns and fireplace to create a sense of continuity as you move from the outdoor spaces to the interior.
Linear features inside—reflected in the ceiling, the great room, the windows, just about everywhere you look—make this home a stunning example of how warm and inviting contemporary architecture can be. The pairing of materials and lines brings a distinctive symmetry to each room. Rich mahogany inlaid in the floor mirrors the ceiling and connects the two. Unlike some examples of contemporary architecture, this home feels deeply connected to nature. Retractable folding glass wall panels create connection with the world outside to make the indoor and outdoor living areas into one large space.
Infusing Each Design With Originality
For every home that we build, the owners' uniqueness inspires the uniqueness of the designs. While Camens Architectural Group certainly has a style, there are no cookie-cutter homes in our portfolio. Instead, our style is felt in the flow of the rooms and the light that comes through the windows. It's felt when you sit on the back deck of a home overlooking the expanse of nature, yet still feeling cozy and comfortable.
We infuse each home with an originality that reflects the people who will call the building "home." Just as we combined the organic feel of the Arizona desert with an Asian aesthetic in this home, Camens Architectural Group is always ready to showcase the distinctive tastes of our clients.
Are you ready to finally live in the home of your dreams? Contact us today to get started.