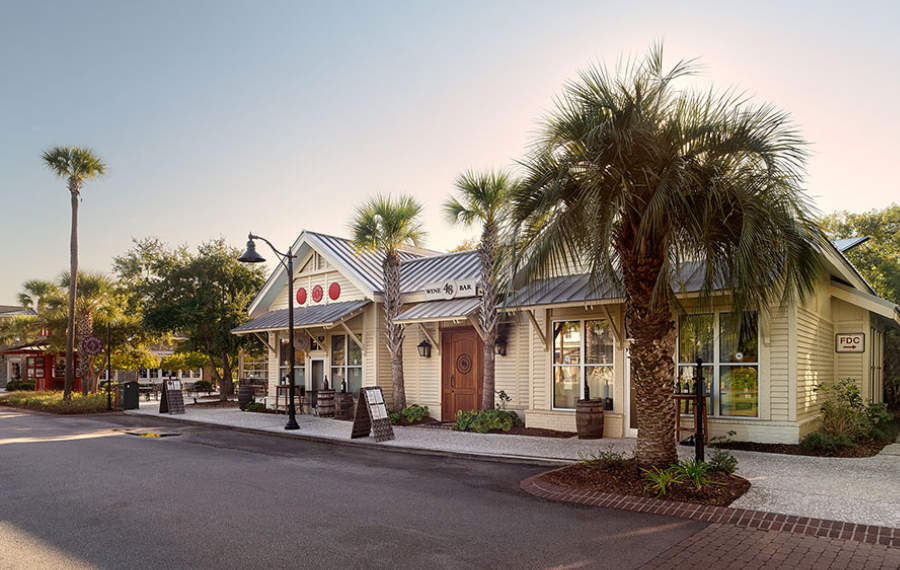 FortyEight – Wine Bar & Kitchen – Commercial Architecture
With 48 bottles of wine to taste in its bar, FortyEight – Wine Bar & Kitchen presented Marc Camens with a unique challenge. Located on Kiawah Island, FortyEight – Wine Bar & Kitchen occupies a space that was once two, and showcases Marc's iconic style in a commercial setting.
A Unique Energy Flow
People move through the spaces at FortyEight in a strategic but organic way. The idea for the wine bar was to create stations throughout the building, where people can stop to taste wine, sample food, and shop the retail space. Upon entry, a heavy wood door with the bar's iconic 48 emblem swings open to reveal the cool interior, inviting you in from out of the humid warmth.
Along one wall, various wine stations allow patrons to sample wines on tap, with four wines offered at each station. Between the stations, wine glass storage creates visual space on the wall, and physical space between stations to keep the area from becoming too crowded. As is true in other examples of contemporary architecture, the lines are clean, and the use of texture and simple colors creates a cohesive design.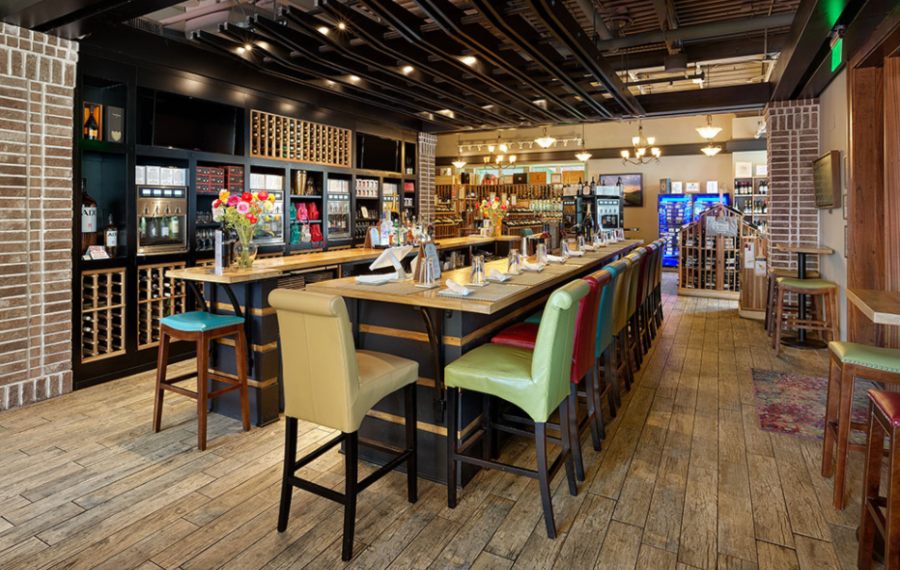 Using Ceilings to Define Functional Spaces
As Marc does in all his designs, he used the ceilings to define each space. Over the two-sided bar, a beamed ceiling, that still allows the air conditioner ductwork to peek through, gives the bar an industrial vibe consistent with contemporary architecture. Exposed brick walls bring a touch of Southern charm to the space without feeling out of place. In the retail section of the wine bar, simple wood bottle racks offer a clean, crisp shopping space for guests that mirror the wine racks found at the wine stations.
Beyond the Bar
A contemporary molding extends around the perimeter of the dining spaces, creating the human scale to which Marc always designs buildings. Rustic hardwoods offset these heavy black features to keep the space looking tailored and the energy flowing. There's also ample room for group tasting events. Outside, the patio offers plentiful seating and the flexibility to serve guests, whether during tastings or regular meal service.
Marc's contemporary architecture continues to shine as he recently completed a similar project, Binky's Seaside Oyster & Liquor Bar, in Isle of Palms, South Carolina. Like FortyEight – Wine Bar & Kitchen, Binky's offers indoor and outdoor dining and a warm, Southern take on contemporary architecture.
What's your dream for your business? Contact us today to get started building the foundation for your landmark restaurant now.