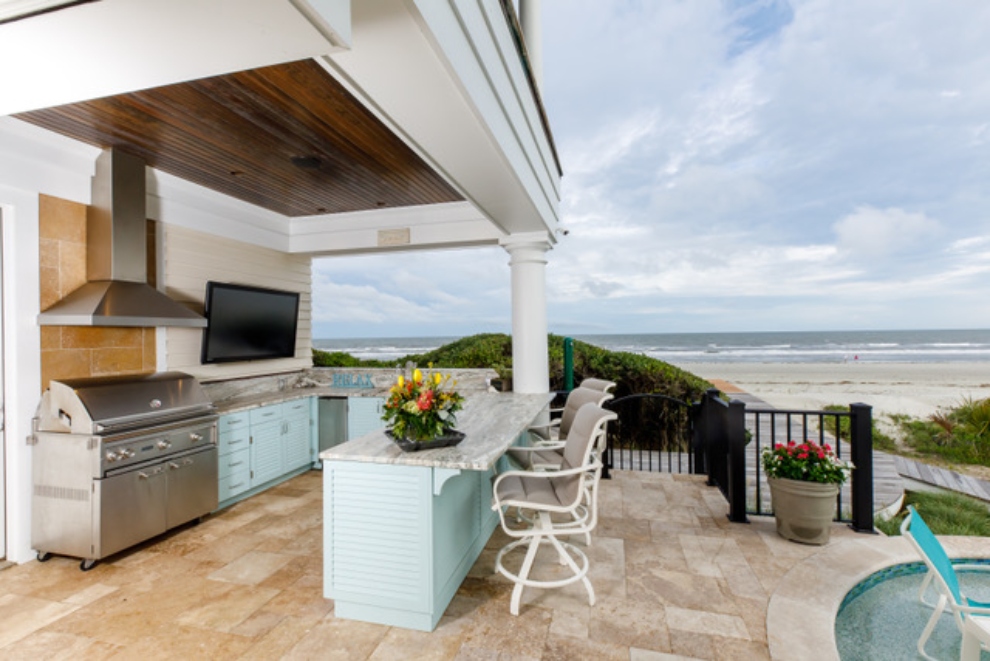 There's something extraordinary about living on the coast. It's as if every part of nature conspires to make you feel relaxed. Located on a tidal area site with an inland creek, deep water access, and a stunning vista of both the marsh and the ocean, this home is a beautiful example of how Marc Camens designs with nature. 
The home's architectural design started with a semi-circular floor plan and then transformed into a more linear design based on the budget. The result is a distinctive home that epitomizes the relaxed elegance of coastal living.
Going with the Flow
While Marc modified the architectural design from a semi-circular one to its current layout, he retained several of the rounded features from the original design. The two-story entry honors this aesthetic and gives the home a lighthouse tower-like feel. Gentle curves along the back grant the home with a flowing quality. The glass doors and windows in the common areas follow this curve, which is reflected in the back balcony. Inside, this curving element is reflected in little ways throughout, such as the gentle arch between the living and dining areas and the kitchen, and the partial oval breakfast nook.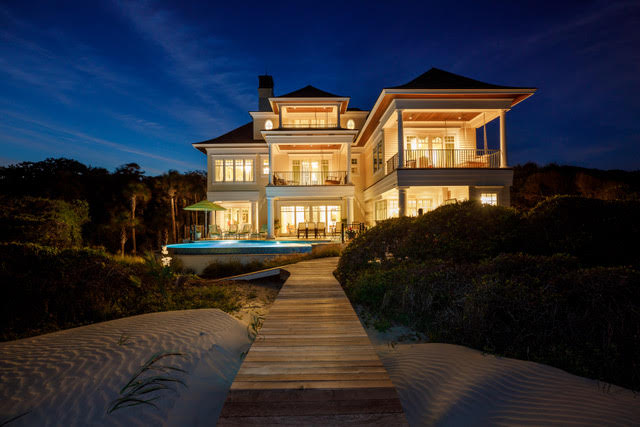 Another unique quality of the residence is the entry's floor mosaic, which features a compass that points south. On Kiawah Island, where the home is located, residences typically face southwest. However, this home sits on a beach where you can see both the sunrise and sunset from the back as you look south. This custom feature nods to the home's atypical orientation and makes it a little more special.
Practical and Beautiful
Part of the home's architectural design process included making accommodations for guests and the family's dog. For practical reasons, the flooring throughout the home is 100-percent tile for easy maintenance when any mess comes along. Its unique pattern and beautiful texture keep it from feeling monotonous. 
Outside, there's plenty of room for guests and the family to gather on the back balcony. A relaxed stairway trailing from the balcony eases you to the boardwalk for access to the water. The home feels sophisticated and tranquil at once – the best combination for coastal living.
Are you ready to see all your architectural design dreams come to reality? Contact us today to get started. We look forward to meeting and working with you.