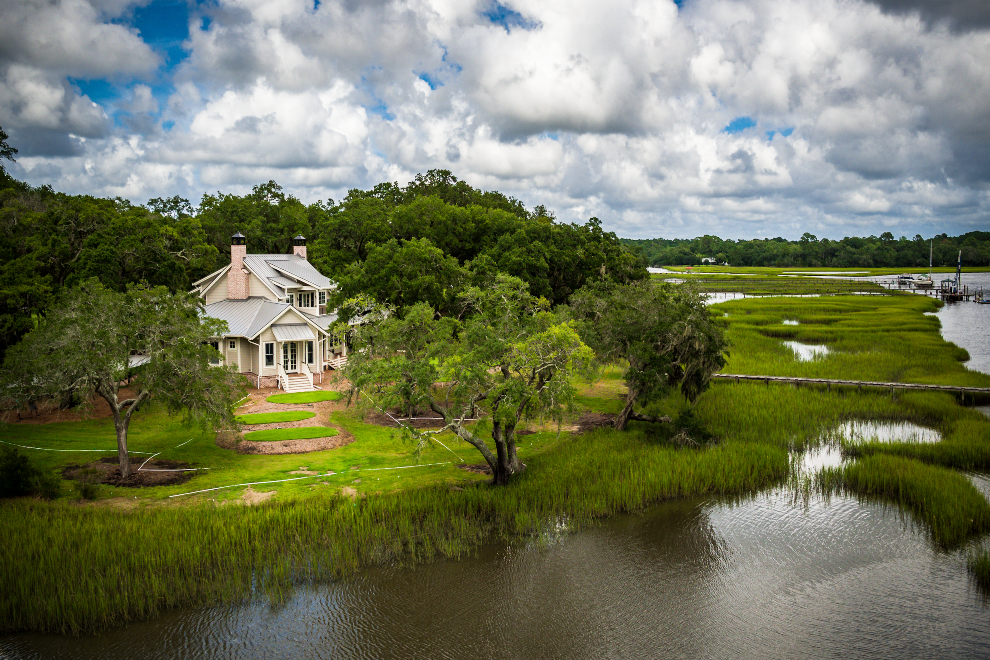 Building Your Custom Home on Johns Island, South Carolina
Johns Island, South Carolina, is known for its love of outdoor living, gorgeous waterways, and sense of community. As the largest island in South Carolina and located just 20 minutes from the heart of Charleston, Johns Island is rich in beauty and history. It's also not as far away from the city as it feels. No wonder so many people want to live here.
Water Lovers Love It
One of the most appealing features of Johns Island is its beautiful waterways. Our team, which includes some of the best residential architects in the Charleston area, loves building waterfront homes that harmoniously interact with nature. One of the ways we do this is by blurring the lines between the indoors and the outdoors to create a comfortable vibe. Many of the homes Marc Camens designs include a peaceful visual transition from the interiors all the way out to the water features along the back of the home site. 
While waterfront homes come with some challenges impacting design and construction, our team of architects and designers are experts at building homes that stand the test of time and nature. When beginning a new home project, Marc personally walks the site to understand how the land interacts with all parts of the environment. It's clear that this attention to detail – how the wind blows across the lot, how the water rises and falls with tides, how the sun casts shadows along the site, and so much more – makes Marc one of the best residential architects in the region.
History Awaits
The best residential architects derive inspiration from the location they're building in, and Marc Camens is no different. "The beauty in the residential architecture of Charleston, in particular, owes a lot to its attention to detail. That detail can be seen downtown, in the fantastic history that's there," he says. Charleston inspires Marc and the entire Camens Architectural Group team and that love for the local aesthetic is apparent in each home we build on Johns Island.
A Sense of Community
Johns Island and the surrounding region are steeped in Southern hospitality and a sense of community. This community atmosphere reflects our approach to residential design. As Marc says, building a home requires a collaborative team that includes the owners. "I don't build sculptures," he says. "I build buildings for people that are collective."
We love building on Johns Island as much as we love spending time here. From the locally-owned restaurants and live music to the farmer's markets and the stunning golf courses, there's something for everyone to enjoy here. Ready to move to Johns Island? Contact us today to get started. We can't wait to work with you.